Kaivac Restroom Cleaning for PA & VA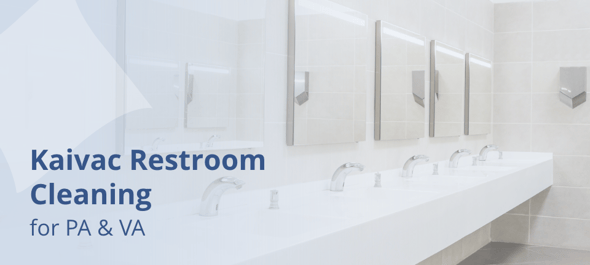 Ideal for schools, colleges, airports, convention centers, stadiums, hospitals, factories, warehouses, movie theaters, and large professional office buildings, our No-Touch cleaning system and processes are designed to remove the maximum amount of bio-pollution and sources of odor by utilizing specialized chemicals and equipment.
The Kaivac restroom cleaning system combines an indoor pressure washer and powerful wet vac into a single tool that allows our skilled cleaning staff to eliminate dirt and grime in your public restrooms. This commercial bathroom cleaning process is quick and thorough, so your bathrooms aren't out of action long.
Advantages of Our Kaivac Restroom Cleaning Services
We can efficiently deep-clean your public restrooms with our innovative Kaivac No-Touch cleaning system. This process offers distinct advantages for your staff and the level of cleanliness we can achieve in your restroom, including:
High-pressure cleaning:

Removes soils and bacteria that can't be cleaned by hand.
Odor source removal:

Leaves restrooms smelling fresh by removing all sources of odors, especially in hard-to-reach areas.
Convenience:

Prevents you from having to purchase and stock expensive and unnecessary equipment.
Clean and safe restrooms:

Your customers and employees will be protected from bio-pollutants and bacteria.
We Stop Germs at the Source
Our Kaivac No-Touch cleaning system allows us to safely address one of the biggest hot spots for germs in any commercial facility — the public restroom. Maintaining a clean bathroom provides a more comfortable experience for your guests and employees while protecting their health.
Pro Quality Cleaning's restroom sanitizing services stop potentially harmful pollutants at the source, keeping your facilities clean, safe, and healthy.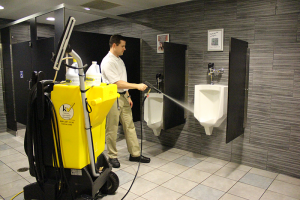 Keep Your Bathrooms Spotless With Pro Quality Cleaning
At Pro Quality Cleaning, our experienced team knows what it takes to make a public restroom sparkle. Using our Kaivac No-Touch cleaning system, we can access even the tightest spots to make sure we eliminate bacteria, bio-pollutants, and odors at the source.
Get in touch with our team to find out more and schedule your first bathroom cleaning services. Fill out our online contact form or give us a call at 717-695-9341.