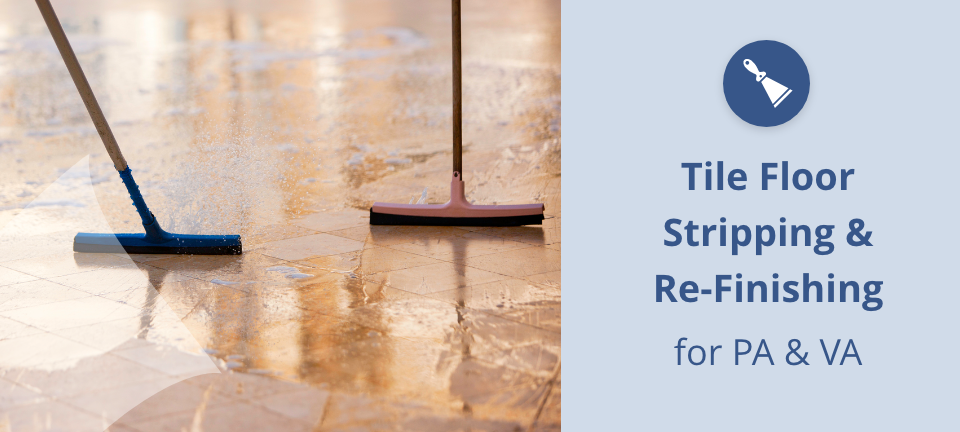 Tile Floor Stripping and Re-finishing for PA & VA
Refresh your vinyl tile floor with stripping and refinishing services from Pro Quality Cleaning. Tile floor stripping and refinishing is usually conducted on 12" x 12" vinyl composite tile (VCT) floors but can occasionally be performed on 9" x 9" tiles or sheet vinyl flooring.
During our floor stripping services, we remove any old wax that's still on your floor, bringing it down to the vinyl surface. Then, we apply fresh coats of wax to brighten, polish, and protect the vinyl from future wear.
This commercial floor waxing process restores neglected floors in heavily trafficked areas and makes them look as good as new, giving your facility an aesthetic boost.
We're More Than Just a Cleaning Service
At Pro Quality Cleaning, our goal is to help you enjoy the cleanest environment possible, and that includes keeping your floors in great shape. Our vinyl floor refinishing services are available for a wide variety of commercial facilities across south-central Pennsylvania, southeastern Pennsylvania, and central Virginia, including:
We pride ourselves on being a go-to source for janitorial and maintenance services, and our floor waxing services are an essential part of that equation. Our experienced team members conduct thorough cleaning and refinishing procedures to give your floor a new life and refresh your space.
Schedule Floor Waxing Services With Pro Quality Cleaning
Get in touch with our team if your floors are looking a little worse for wear. We can give you a no-obligation estimate to get started or schedule services to get your floors back in shape as soon as possible.
How frequently you need this service will depend on how much foot traffic your floor receives and how important it is to ensure your floor looks nice and shiny. Give us a call whenever your floor needs attention or plan for regularly scheduled visits to keep up with your floor's maintenance.
Contact our team today by filling out our online contact form or giving us a call at 717-695-9341.