School & Education Cleaning Services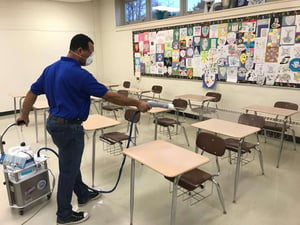 We provide a complete range of cleaning services to help keep your school clean and students healthy. As industry professionals, we take responsibility for the cleanliness of your facility, offering you guaranteed satisfaction. Your school facility needs to be clean and sanitary every day. The health and well-being of your students, staff, and visitors depends on it.
We can help provide your school & educational facility with:
• A cleaner and healthier educational facility
• Specialized cleaning for classrooms, hallways, restrooms and more
• Disinfect high traffic areas to help kill illness-causing germs
Pro Quality Cleaning is proud to partner up with Clorox® to offer a disinfecting system that pairs an electrostatic sprayer with a portfolio of Clorox® disinfectants and sanitizers for superior coverage on all surfaces including, side, underside, and backsides. This service keeps your students healthy and prevents the spread of germs.
Services we provide:
• Day and night cleaning
• Clorox Total 360® Disinfecting Program
• Kaivac "no touch" restroom cleaning
• Summertime floor care, such as stripping & refinishing and carpet cleaning
• Hard floor tile & grout cleaning
• Routine carpet cleaning & maintenance
• Outdoor maintenance, such as parking lot sweeping and power washing