Disinfecting Services for PA & VA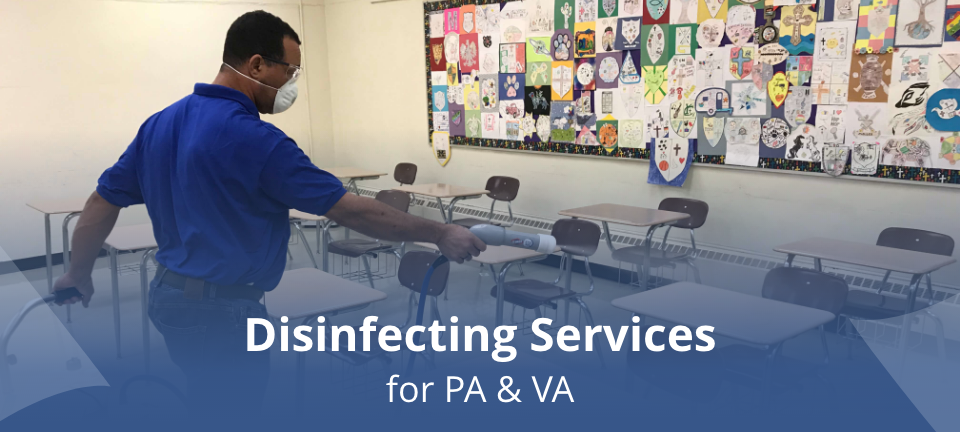 Proper cleaning and disinfecting are more important now than ever before. With the recent pandemic of COVID-19 and other potential viruses such as H1N1, MRSA, seasonal cold and flu viruses, and many others, it's important for you to take steps to protect your business, employees, customers, and loved ones. As the pandemic of COVID-19 has proven, viruses can spread quickly, unexpectedly, and have an absolutely devastating impact on our society.
While traditional cleaning with cloths and spray bottles can help prevent the spread of viruses to a small extent, Pro Quality Cleaning offers professional disinfecting services using electrostatic sprayers. Electrostatic sprayer disinfectant is PROVEN to prevent the spread of germs, bacteria, disease, and viruses much more effectively than any other method.
What Is Electrostatic Disinfecting and How Does It Work?
Electrostatic spray disinfecting is the process of spraying an electrostatically charged mist onto surfaces. It utilizes a customized chemical that's combined with air and atomized by electrodes inside the sprayer. The spray then contains positively charged particles that adhere to all surfaces & objects and coats surfaces it's sprayed toward. It will even cling and work its way under and around surfaces such as desks.
The sanitizing agent will then work to disinfect all the covered surfaces. The spray is safe on ALL surfaces!
Types of Facilities We Serve
With more than a decade of experience under our belts, our team at Pro Quality Cleaning offers comprehensive commercial disinfection services for a wide range of businesses. We provide preventive maintenance and emergency disinfecting services to the following types of facilities:
Retirement homes and communities
Sports stadiums
Daycares
Retail stores
Restaurants
Gyms
Locker rooms
What Sets Us Apart
Pro Quality Cleaning is the leading name in electrostatic sprayer office disinfecting services for south-central Pennsylvania, southeastern Pennsylvania, and central Virginia. Our expert team has all the tools and skills needed to ensure your facility is safe and free from potentially harmful viruses such as COVID-19.
We pride ourselves on our reputation for providing the best services from start to finish. We use industry-leading tools and disinfecting strategies and exceptional communication to ensure we understand and meet your needs with every visit.
Whether you need regular disinfecting services or one-time emergency service, we'll be there so you can get back to business. Your team at Pro Quality Cleaning is more than a cleaning service — we're your partners in keeping your facility clean and fresh.
Schedule Disinfecting Services Today
Interested in a quote for professional disinfecting services? Contact us today or call (717) 695-9341 EXT. 1