About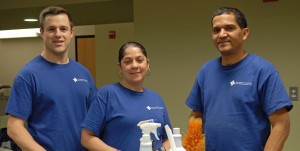 Our Mission Statement
To build long-term relationships with each one of our Customers by understanding their needs, providing reliable service, and offering a fair pricing structure.
Our Vision Statement
Pro Quality Cleaning's vision is to set the standard for professionalism and consistency in the janitorial industry.
Our Core Values
1. Consistency. Our business model is based on highly structured systems and trained technicians to deliver consistent services on a daily basis.
2. Relationships. We will strive to build a long-term relationship with your business.
3. Stewardship. Our cleaning chemicals, equipment, and processes are "Green Friendly" and are safe for all building occupants and visitors.
4. Training. We place high value in training our employees and ensure that each employee is properly trained before working on their own.
5. Best Value. Our fair pricing structure is the best value for your dollar.